Basics
♥Name: Serina
♥Age: 14
♥Location: Wilmighton, DE
♥Sexaulity: straight
♥Status: taken [for now]
♥Favorite Movies: Little Darrlings,The Sweetest Thing, Flash dance, The Notebook, Mean Girls, The Exorcist
♥Favorite Books: The Earth My butt and Other Big Round things(thats one book), The sisterhood of the traveling Pants(there are 3 of them), Pop Princess, The Notebook, A Message in a bottle.
♥Favorite Music/Bands: Pop, hip-hop, r & b,rock (forced to listen to>) classic rock-
♥Hobbies: shopping, field hockey, talking, spending a lot of time with my 3 best friends- chelsea, pam, and jordan.
Opinions
♥ Abortion : I personally wouldnt do it, but It other people's choice(s) and I respect everyone's personal choice(s)
♥ Love : Never felt it yet, but i'm sure the feelings of it must be amazing..*~
♥ Gay Marriage: People should marry whoever they are happy with::
♥ Sex Before Marriage : YEA
♥ September 11, 2001 : I remember exactually where i was, and i remember my dad explaining the whole thing to me, it horrible, and i pray for all their families.
**these pictures are not good**

(with my long hair)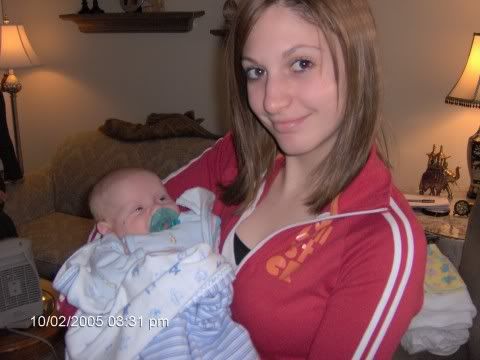 (this is me, with my baby brother cameron-2 months) this is taken, after i got my hair cut*
(i just think this is a cool looking picture, i just like how the camera is showing and the flash and all, i know its weird...but its cool) *~